Majest Programs
Majest Martial Arts
Seasonal Camp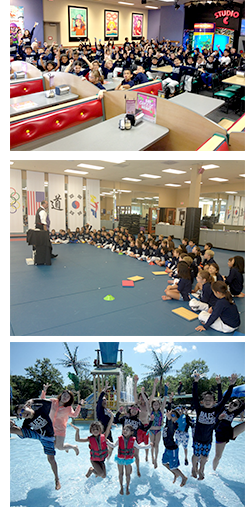 At Majest Martial Arts, we provide Day Camp, Spring/Winter Break and Summer Camp programs. Preschoolers and beyond will explore and experience teamwork, independence, cooperation, competition, increased overall fitness and athletic abilities, expanded creative horizons, new interests, new friendships and fun! We offer Early drop off and Late pick up at NO EXTRA CHARGE! Our core Camp Hours are 9am – 3pm with Early drop off (7:00am) & Late pick up (6pm). If you would like additional information on any of our camp programs, please contact one of our schools.
Day Camp
We are open for child care when schools are closed due to Snow Days, Teacher work days and Holidays. While schools are closed and parents are at work, your kids will have a fun-filled day at Majest. Our structured day includes field trips, arts & crafts, and physical and social activities! Students from all area schools are welcome to drop-in at Majest Martial Arts. Please note: we do not provide care on days that schools have only delayed openings.
Spring & Winter Break Camp
Why have your children sit around the house during Spring/Winter Break when they can be exploring and enjoying new skill-building, TaeKwonDo training, and going on field trips. You may book by the day or week.
Summer Camp
The camp season runs for 10 weeks beginning in mid-June. We offer enrollment options 3, 4, or 5 days per week. Daily activities are centered on TaeKwonDo, Swimming, The Arts, Sports and Teambuilding. With our exciting and varied field trips, your child will never be bored!