Majest Programs
Majest Martial Arts
AM Kinder Program
Children are made to run, jump, and exercise! At Majest, we encourage students to push their physical abilities. As weeks go by at Majest, parents start to notice a change not only in their student's balance and coordination, but also in the child's behavior and all-around approach to life. Children are developing these skills and attitudes without even knowing it — because they are having fun!
How do children benefit from Tae Kwon Do?
Your child begins by practicing basic routines along with blocking, striking, and punching. These fundamental skills increase your child's physical coordination, flexibility, balance, and mental acumen. Taekwondo emphasizes moral development as well. Children learn respect — for both themselves and others — along with heightened concentration, increased self-discipline, and improved self-restraint.
The self-discipline that a child develops at Majest carries over into other areas of the child's life as well. School grades often improve as your child learns to focus on objectives and to work toward achievement. In addition, the self-discipline and self-respect which Taekwondo develops can provide your child with the skills and mindset necessary to resist peer pressure and negative influences.
---
"It is a great thing for ýoung children, ..they learn discipline and rules. They learn to share and play fair. All of the core values we teach our kids. It builds confidence and self esteem. A great place for kids to grow. I would recommend this to everyone." – N.T.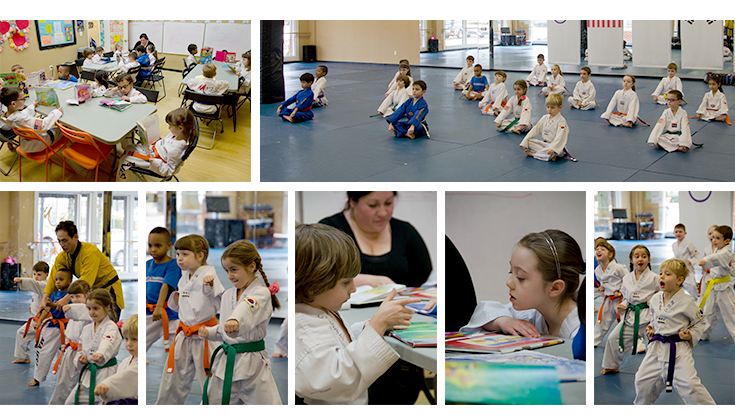 After School Care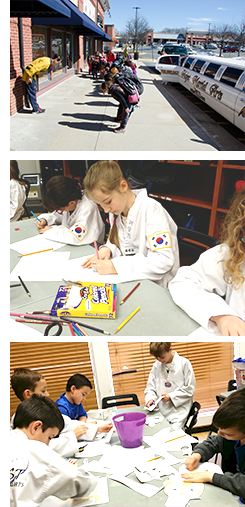 Choosing a care provider for your child can be a difficult decision. You want a safe, caring setting that will do more than keep your child occupied while you're at work. You want your child to make the most of those hours, using them to grow and learn through challenging opportunities to become a smarter, stronger and more thoughtful individual.
As a part of the Majest After-School Care family, we share a common goal. We too are parents, brothers, sisters, uncles, and aunts just like you. That means our children's needs always come first. Our goal at Majest is to provide students and their families with quality After-School care and TaeKwonDo training in a safe, enriching environment, through caring Masters, professional staff and family involvement.
We are focused on creating quality programming and a safe, trusting and challenging environment where children are encouraged to pursue new and familiar interests, develop friendships, grow in confidence and independence, and continue to develop respect for themselves and others.
---
"Great staff that really encourages the kids! They provide great all day camps when school is out of session and after care. We have been very happy with our experience at Majest, and so has our son." – T.W.
Evening Classes

All of our Majest locations have robust class schedules on evenings and Saturdays that accommodate students of all levels. Whether you're a beginner or a Black Belt, young or old, or even a family that's looking to practice TaeKwonDo together, there's a class available for you almost every day of the week. We have pricing plans available for students who want to practice many times each week, or just a few times. Check the Schedules section on this website to learn how your Majest location provides you with the flexibility you need to practice and enjoy TaeKwonDo.
Majest Cubs
Majest Cubs is our program for children under age 5. These are formative years for a child's development of gross motor skills, balance, coordination, and agility. Children in this age group thrive in large, safe play areas where they can develop the proprioception, spacial awareness, and motor functions that accelerate their physical and cognitive development. Majest has both the facilities and the instruction needed to make this possible. Our instructors are expert at working with younger children in a variety of training activities that develop these skills: balance drills, obstacle courses, and agility training along with basic TaeKwonDo movements and fundamentals.
---
"My son has been there since he was a Cub, and now he's a super-blue belt. He absolutely loves it. The instructors are beyond amazing, and so encouraging. The after school program, day camp when school is closed and summer camps keep the kids busy and having fun!" – E.F.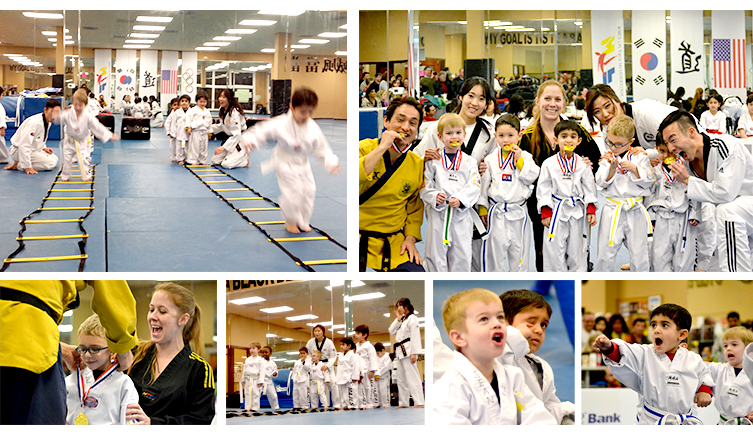 Birthday Party

Make a memorable birthday party with Majest! Our well trained and enthusiastic staff will make it a fun-filled birthday party with your child as the star of the show. It's a martial arts themed birthday party where the kids will have an opportunity to experience an introductory level TaeKwonDo class including board breaking!
The birthday cake is presented with a special cutting by the birthday child. Majest provides the pizzas so you have one less thing to worry about! We want kids to have a great time on their birthday so there are lots of fun games and activities. And lastly, the birthday child and the guests will enjoy a 15 minute limousine ride!
Host family provides:
Birthday cake (don't forget to bring knife, lighter and candles)
Snacks and drinks (pizza will be provided by Majest)
Paper and plastic products including tablecloths, spoons, forks, napkin and plates
Decorations (if desired)
Goodie bags (if desired)
Majest Birthday Party
Accommodation for birthday child plus 15 guests
Introductory TaeKwonDo class with our well trained Masters
Board breaking for birthday child and guests
Birthday cake and special cutting
Special gift opening
Additional guests are $15 per child
Lots of fun games and activities
3 XL pizzas will be provided
15 minute Limousine Ride
Minimum birthday child age is 5 years
Party length is an hour and a half (90 minutes)
Call us for more details on this terrific package!
Seasonal Camp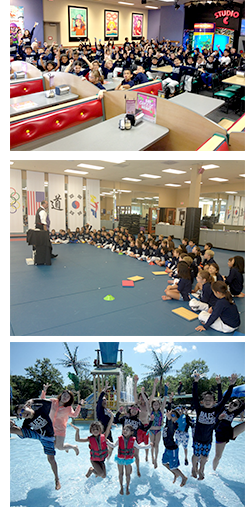 At Majest Martial Arts, we provide Day Camp, Spring/Winter Break and Summer Camp programs. Preschoolers and beyond will explore and experience teamwork, independence, cooperation, competition, increased overall fitness and athletic abilities, expanded creative horizons, new interests, new friendships and fun! We offer Early drop off and Late pick up at NO EXTRA CHARGE!
Our core Camp Hours are 9am – 3pm with Early drop off (7:00am) & Late pick up (6pm). If you would like additional information on any of our camp programs, please contact one of our schools.
Day Camp
We are open for child care when schools are closed due to Snow Days, Teacher work days and Holidays. While schools are closed and parents are at work, your kids will have a fun-filled day at Majest. Our structured day includes field trips, arts & crafts, and physical and social activities! Students from all area schools are welcome to drop-in at Majest Martial Arts. Please note: we do not provide care on days that schools have only delayed openings.
Spring & Winter Break Camp
Why have your children sit around the house during Spring/Winter Break when they can be exploring and enjoying new skill-building, TaeKwonDo training, and going on field trips. You may book by the day or week.
Summer Camp
The camp season runs for 10 weeks beginning in mid-June. We offer enrollment options 3, 4, or 5 days per week. Daily activities are centered on TaeKwonDo, Swimming, The Arts, Sports and Teambuilding. With our exciting and varied field trips, your child will never be bored!
Teens, Adult, and Family Programs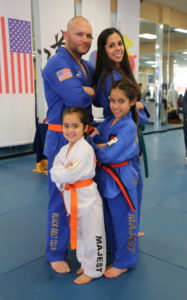 In addition to our outstanding programs for children, Majest also has a robust Teen & Adlt program as well. Our Teen & Adult classes have students that range in age from 16 to over age 70! At Majest, teens & adults have the option of taking regular TaeKwonDo classes (which is a terrific option for parents that want to study TaeKwonDo with their children), or attending special classes that are open to Teens & Adults only. These include conventional TaeKwonDo classes, other self-defense classes, and general fitness classes. Whether you're a parent that's looking for something special to do together with your child, a busy adult who's looking for a terrific workout, or simply a person who's looking to learn the fundamentals of self-defense, Majest has a class for you!
Family Programs – a Lifetime of Memories
Looking for a lifetime of memories with your children? Look no farther than Majest Martial Arts! When they see how much fun their children are having at Majest, many of our parents sign-up for our discounted Family Plans that allow parents and children to practice TaeKwonDo together. What other major sports activity allows you to practice with your children? What other adult workout program helps build new bonds with your child? There are too many benefits of family taekwondo to list, and we are so fortunate that at Majest so many of our students and families have come to appreciate this. As we like to say at Majest: the family that kicks together, sticks together! Contact the Majest front-desk for details on our terrific family discounts.
"Focus, confidence, and fun for all ages. The best place to get exercise and have fun at the same time. When you're at Majest you feel at home. At Majest you're not friends, you're family." – A.E.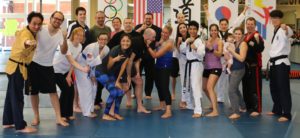 Special Needs
TaeKwonDo is for everybody, and at Majest we accommodate a wide range of special needs adults and children in our mainstream TaeKwonDo classes. Both physical and cognitive development are enhanced by the repetition of TaeKwonDo routines and the physical training that is a normal aspect of TaeKwonDo. Balance, coordination, and motor skills are improved with regular practice, but more importantly, our special needs students develop terrific confidence, self-esteem, and pride. If you'd like to know if TaeKwonDo is right for your student, please contact us for more details on how TaeKwonDo training can benefit students of all abilities and ages.