Majest Programs
Majest Martial Arts
Teens, Adult, and Family Programs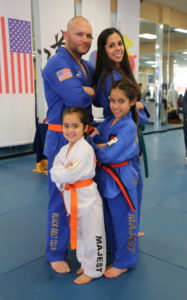 In addition to our outstanding programs for children, Majest also has a robust Teen & Adlt program as well. Our Teen & Adult classes have students that range in age from 16 to over age 70! At Majest, teens & adults have the option of taking regular TaeKwonDo classes (which is a terrific option for parents that want to study TaeKwonDo with their children), or attending special classes that are open to Teens & Adults only. These include conventional TaeKwonDo classes, other self-defense classes, and general fitness classes. Whether you're a parent that's looking for something special to do together with your child, a busy adult who's looking for a terrific workout, or simply a person who's looking to learn the fundamentals of self-defense, Majest has a class for you!
Family Programs – a Lifetime of Memories Looking for a lifetime of memories with your children? Look no farther than Majest Martial Arts! When they see how much fun their children are having at Majest, many of our parents sign-up for our discounted Family Plans that allow parents and children to practice TaeKwonDo together. What other major sports activity allows you to practice with your children? What other adult workout program helps build new bonds with your child? There are too many benefits of family taekwondo to list, and we are so fortunate that at Majest so many of our students and families have come to appreciate this. As we like to say at Majest: the family that kicks together, sticks together! Contact the Majest front-desk for details on our terrific family discounts.
---
"Focus, confidence, and fun for all ages. The best place to get exercise and have fun at the same time. When you're at Majest you feel at home. At Majest you're not friends, you're family." – A.E.