Majest Programs
Majest Martial Arts
Black Belt Club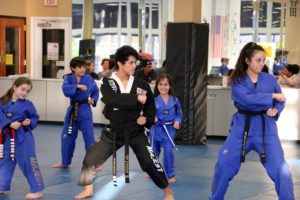 The Majest Black Belt Club is an optional 3-year membership contract for evening taekwondo members (2-years for our After School students) for the exact same price as a regular enrollment! We are so confident that you will enjoy the benefits of our Black Belt Club that members who sign up for the Club have their contracts retroactively started to the date of their original Majest membership! (For example, if you've already been a month-to-month member of Majest for 12 months, that 3-year contract becomes a 2-year contract instead.) That way you can be absolutely positive about the benefits of Majest to you before you make such a commitment.
What are the benefits of the Black Belt Club?
UNLIMITED classes (6 days a week). After-school students can attend any applicable evening taekwondo classes they'd like, including Saturday classes for extra training. (UNLIMITED classes apply even during the summer break for our After School students!)
A special Black Belt Club uniform. This is a premium quality uniform, with "Black Belt Club" design and special patch.
10% off all equipment purchases, and 30% off all birthday parties – if you already know that you plan to stick with Majest for the long run, our Black Belt Club actually costs less than a regular membership — and offers so much more!
Ongoing special promotions/discounts for black belt club members. If you're confident that your student would like to continue his/her taekwondo training to Black Belt and beyond, it is definitely worth considering enrollment in this program.
More information is available at the Majest front desk; please feel free ask any questions you might have!